Company story
The foundation of Trust-sun Intelligent Display Technology Co. began in the early 1990s as our creators were gathering acrylic industry experience. In 2004 our parent company, Trust-Sun was established. Trust-Sun specializes in acrylic processing and sales and has become one of China's leading brands.
Our primary focus was originally on broad OEM production, but after careful analysis, it was found that our efforts would be better suited to spin off another company that could provide customers with superior custom services. Therefore, Trust-Sun Intelligent Display Technology Co., Ltd (Trust-Sun) was formed in 2016. We took on some of the OEM design and processing capabilities of Trust-Sun and built upon it with Trust-Sun. We decided to focus on the design, development, and service aspect of the business and assemble a team of young designers.
We have built a comprehensive service system that includes consulting, packaging, transportation, distribution, and many other after-sales services.
What can we do?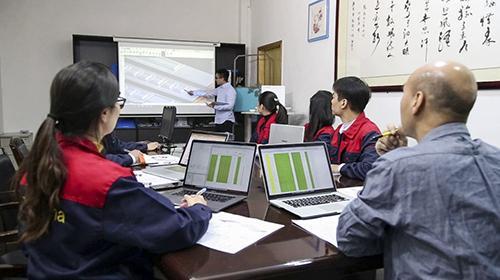 Trust-Sun provides integrated solutions for our clients. We can design, produce and install displays for marketing showcases.
Main products: displays or stands for the presentation of high-end consumer goods, such as watches, jewelry, cosmetics, and so on. These displays are made from a combination of acrylic, plastic, and hardware components.
Our displays can be found in shopping centers and salons all over the world. We have built product set-ups for international brands such as:
Estee Lauder, Tom Ford, Bobbi Brown, Clinique, Kiehl's, Givenchy, Sephora, Elizabeth Arden, Chanel, Calvin Klein, MUJI.
Domestic brands: Bank of China, Fawa, Vivo, HUAWEI, Carslan, Qdsuh.
Trust-Sun advantages
Company resources: We operate an acrylic sheet production plant and a raw acrylic material plant to facilitate our own materials in order to control product quality and minimize delivery time.
Geographic location: Trust-Sun is located in the Pearl River Delta and we are positioned near raw materials suppliers. This results in orders being supplied quickly and with minimal transportation costs.
Complete service: cases are received by our program manager – communication with clients – program design – describe ideas in detail to clients – determine the ideal model – quality testing – packaging and delivery.
Company development
In 1991, the founder began working in the plastic industry. In 2000, he began running an acrylic sheet plant in Zhaoqin that covered more than 50,000 square meters. That same year, the factory opened sales departments and acrylic sheet processing plants in Shunde, Dongguan, and Shenzhen.
In 2004, Trust-Sun was established and an acrylic processing plant was constructed in Humen Town, Dongguan District. We began to work with many famous manufacturers, providing them with OEM services.
At the end of 2014, Trust-Sun acquired an injection modeling plant and expanded the purchasing department. The team was thoroughly trained in the injection modeling technique.
In 2015, to improve our ability to meet the demands of clients, we established a metal plate deep processing plant that was able to manufacture display units made from multiple materials, including wood, acrylic, and metal components.
Today, we continue to provide customers with high quality displays in China and around the world. The innovative spirit, strict quality control, and practical assembly performance of our company have combined to earn the trust of many major brands.
In order to guarantee our product quality, we construct our displays from multiple materials and follow up with customers, providing maintenance and assistance when necessary.